Stainless Steel Wire Mesh, Stainless Steel Filter Screen
Weaving way:
Plain weave; twill weave
Material:
SUS201;SUS202;SUS304;SUS316;SUS316L and so on are more common
Uses:
Widely used in acid and alkali environment or high precision occasions screening and filtration
The wire mesh made of stainless steel wire has plain weave and twill weave. The highest number can reach 2800 mesh, widely used in acid and alkali environment or high precision screening and filtering.
Details
Wire Mesh
Stainless Steel Products offers wire mesh typically made with Plain Weave, Twill Weave, or Dutch Twill Weave. Wires can be welded, crimped, or plain. We offer various materials, including plain steel,galvanized steel, stainless steel, brass, and more.

---
Plain Weave
Plain woven wire mesh is the most common type of weaving method. The warp (length) wires and the weft (width) wires cross each another, alternating one on the top and one under, forming a 90° angle between each other creating a square or rectangular opening. Manufacturers use plain woven wire mesh to make filters, for food, chemicals, insect screens, mining screens, and much more.


Twill Weave
Twill Weave is another common type of weave. The wires down the roll length and the wires across the width cross, two wires at a time, first above above then below, at an established distance. This makes the mesh more rigid and stable.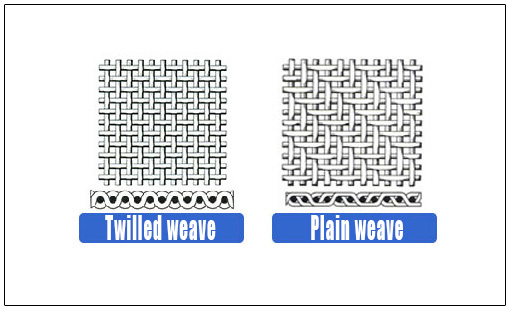 ---
Dutch Twilled Weave
Dutch Twill Weave cloth is very common for filtering under high pressure. In this weave, the width wires and the length wires cross two above and then two below at a set distance. However, in the Dutch Twill weave, the the wires across the width of the mesh roll have a larger diameter than the wires down the length of the roll.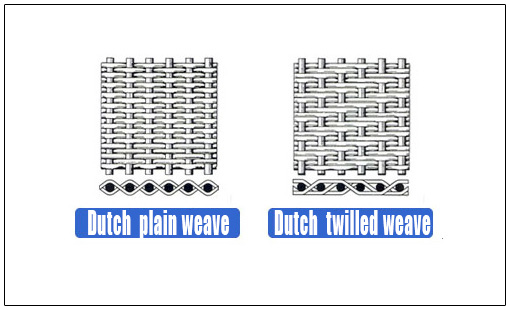 ---
Specification List of Stainless Steel Wire Mesh
Mesh/Inch
Wire Gauge(SWG)
Aperture in mm
3mesh x 3mesh
14
6.27
4mesh x 4mesh
16
4.27
5mesh x 5mesh
18
3.86
6mesh x 6mesh
18
3.04
8mesh x 8mesh
20
2.26
10mesh x 10mesh
20
1.63
20mesh x 20mesh
30
0.95
30mesh x 30mesh
34
0.61
40mesh x 40mesh
36
0.44
50mesh x 50mesh
38
0.36
60mesh x 60mesh
40
0.30
80mesh x 80mesh
42
0.21
100mesh x 100mesh
44
0.172
120mesh x 120mesh
44
0.13
150mesh x 150mesh
46
0.108
160mesh x 160mesh
46
0.097
180mesh x 180mesh
47
0.09
200mesh x 200mesh
47
0.077
250mesh x 250mesh
48
0.061
280mesh x 280mesh
49
0.060
300mesh x 300mesh
49
0.054
350mesh x 350mesh
49
0.042
400mesh x 400mesh
50
0.0385
Roll width: 2'-8'




May be you like